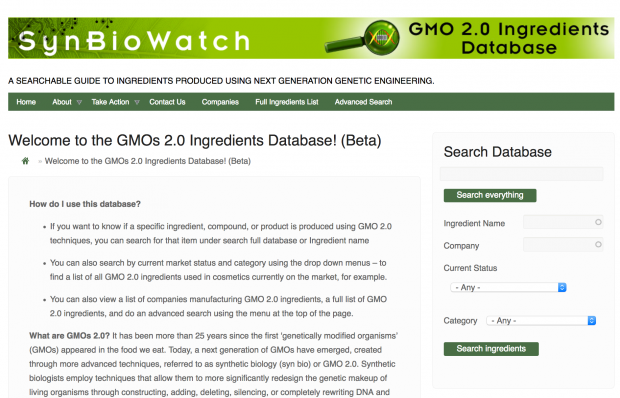 GMO 2.0 online searchable database
ETC Group has developed an online searchable database of 'GMO 2.0' ingre-dients.  The beta version of 'GMO 2.0 database' was launched at Natural Products Expo West 2017 in California and is now openly available for general testing. It is hosted at the synbiowatch.org website which is a project of the Synenergene civil society forum and provides a searchable record of ingredients and compounds produced through Synthetic biology methods and other new genetic engineering techniques.  At present the database has over 350 entries tracking over 200 unique ingredients found in food, cosmetics, fragrances, supplements and other consumer products. It records over 70 entries for synbio-derived ingredients that appear to already be in the marketplace, a similar amount that are under commercial development for market release and others under research and development where the commercial status is unclear. Users can search the database by ingredient, category or company. The information currently in the database was compiled through six months of research by ETC Group, and will be updated as new ingredients or information emerges. To access and search the database go to database.synbiowatch.org. 
Click here for a short background video interview.
A discussion on the database will start at the SYNENERGENE website later in May 2017.